Welcome back!
This article is dialogue of Everybody's Gone to the Rapture / Chapter 2 - Wendy.
If you haven't looked over the last article, I strongly recomend you should look it.↓
I hope this will help for you. ;-)
Wendy
Triggered Story Scone
Barbara: You do look ever so drawn this morning.
Wendy: That bloody dog kept me awake, and there was that thing in the sky -
             the radio says it was an electrical storm but I don't know what it was.
             This morning I found some dead birds in the garden.
Dr. Wade: I'm sorry to hear that.
                 I wonder if it might have had something to do with the atmospheric conditions.
Wendy: My Stephen will probably know. I'll give him a call in a bit.
Dr. Wade: Wendy, I've popped around because we've had some...
                 incidents with some of the more elderly residents.
                 Mrs. Boughton has, well, vanished for want of a better word.
                 Wandered off somewhere no doubt;
                  I thought I'd best check and see you're alright.
Barbara: The council are talking about a flu epidemic.
Dr. Wade: Yes. Well, I'm not sure it's flu, as such,
                 but no headache? Nosebleeds? No joint pains or digestive issues?
Wendy: Dr. Wade, I'm as fit as a fiddle.
              Go and find some real sick people to look after.
              And if you see that son of mine, tell him that his mother is looking for him.
Automatic Story Scene
Wendy: Going away Amanda?
Amanda: Oh just for a few days, yeah. First thing in the morning.
                Don't want the kids to catch this flu it's going around.
Wendy: It's probably that Father Jeremy,
             spreading it around while he tries to bully everyone into donations for the           summer fête.
Jeremy: It seems very quite in the village actually, Wendy, not much bullying to be done.
Wendy: Oh, Father. I didn't know you were here.
Jeremy: Clearly.
              Listen, I came up here to tell Amanda that we've had some vandalism in the  village.
             Must be a teenage thing, "tagging" I think they call it,
            someone's painting all over doors and things.
Amanda: Little vandals.
               Well I'll tell Neal to make sure we're properly locked up when we go.
Wendy: A good man like my Eddie, gone, and there thugs and yobs running around defacing property.
             He gave everything to his country and look what he got in return. Nothing but an early death.
Jeremy: He had a good life, Wendy.
Wendy: He had a short life.
             I look to my birds, Father.
             Lives lived unencumbered. Free and simple.
             That's as God meant things to be.
Radio
Kate: Every computer in the observatory
         has set itself to 6:07AM, June 6th,1984.
         I don't understand what that means.
Telephone
Clive: It got as far as the Haverton substation before we cut the lines -
          the interchange there just started dialing numbers at random.
Stephen: And the symptoms you're seeing match those we've been tracking here?
Clive: Sickness, headaches, nosebleeds, eventual hemorrhage. Then...
          just light - whatever the hell that means.
Stephen: Then we've got to stop it before it finds another way out of the valley.
                Clive, you're got to order a strike.
Clive: What?
Stephen: An air strike. We have to kill it.
Clive: No.
          No, I don't agree. We've quarantined the valley, we're cut the lines. It's contained.
Stephen: What if you're wrong? Are you happy to have that on your conscience?
Clive: Stephen, I said it's contained!
Telephone
Frank: Hello, Frank Appleton.
Chalie: Breaker Lost Cowboy, this is Travelling Sherlock. You copy, over?
Frank: You daft bugger, Charlie. You don't do it when you're using the phone!
Charlie: You take this too seriously Appleton, I'm telling you.
Frank: It is serious! It's not larking about.
Charlie: You been listening to your number stations again, Frankie?
Frank: It's not funny. It's serious stuff and you should mind it.
            Now then. I'm assuming this is about a pint.    (※erratum?)
Charlie: I am going to the Whistler. My round I think.
Frank: I'll not argue with that.
Charlie: Frank, have you seen the sky?
              It's amazing, don't think I've ever seen anything like it.
Frank: I didn't realise we were off to a poetry recital as well, Charlie.
Automatic Story Scene
Frank: Terry called this morning, said there was a problem with Harvey.
           Said he couldn't get through to the vets so I said I'd come around and take a look.
Wendy: There's a lot of dead birds today - more here too.
             Poor little things. I've been trying to get hold of Stephen, he always know what to do.
Frank: Got around here; no sign of either of them.
Wendy: With any luck the stupid creature will have run under a car - 
              it's probably rabies.
Automatic Story Scene
Terry: Harvey! Harvey, come on boy!
June: Come on, Harvey!
Terry: Come on, Harvey!
          Come on boy!
June: Harvey!
Terry: Harvey!
Terry: Just push it! Push the bloody thing!
June: You push it - I told you it would get stuck.
Terry: We should have just taken the car. This is a stupid idea.
June: Moving here was a stupid idea, and I told you, Barbara said they've blocked the roads.
Terry: Well, if Barbara says so.
June: You go and look then -
Terry: Wait, is that Harvey?
           Harvey? Harvey!
June: Harvey! Here boy! Come here boy!
Radio
Kate: Phone call from Stephen.
         He wants to shut down the receiver, something about instances across the valley.
         There's intermittent electrostatic discharges radiating out of Tower Six;
         all the electrics on the main gate are blown.
         I'll find time to take a look, once the data stream begins to calm down here.
Triggered Story Scene
Lizzie: Wendy, I'm married. You have to stop this!
Wendy: He's still sweet on you, Elizabeth.
Lizzie: He left. It's too late.
Wendy: You loved each other long before she came along.
              It's just about making things are they should be.
Lizzie: Wendy, no.
Wendy: It's not like you won't bump into each other anyway.
             One drink, what can that hurt?
Lizzie: One drink, maybe.
Wendy: One drink. Wonderful!
Automatic Story Scene
Diana: I can't see him! Should we go down?
Sean: Just leave it, we've got to keep moving.
Diana: Sean, we can't just leave him, he must be really badly hurt.
Sean: Jesus, Diana, we've got the kid in the car. We should just keep driving.
Diana: We can't just drive off and...
            Look - he's there, he's in the car,
            oh God, he's hurt, we've got to get down here - 
Sean: I said leave him!
          We've got to get out of the valley while we can
Diana: Oh my God, he's trying to undo his seat belt,
Sean: There we are - he's fine then.
           Come on love...
           Come on.
Automatic Story Scene
Jeremy: Good grief, Wendy, you'll catch your death.
Wendy: They're all dead Father. All of my birds.
Jeremy: Here, take my jacket.
Wendy: I tried to be a good woman, a Christian woman,
             but I've been proud.
Jeremy: Just as the Lord forgave you, so also should you.
              What matters is we our best. God sees that.
              Come back to the village with me.
Wendy: I'm not so far from Stephen's now, I need to find my son. It's what Eddie would have done.
Jeremy: Yes, I suppose it is. I'll say a prayer for you.
Wendy: Thank you Father.
             She loved you, you know, Mary.
             You helped her,
             I'm sorry if judged you harshly.
Jeremy: It doesn't matter now.
             It's late. You should find a place to sleep,
             I'm sure when the sun comes up, everything will seem better.
Triggered Story Scene
Stephen: Howard!
                Howard! What's happened?
Howard: Stephen, thank God.
               Listen, I need you to get to the junction box, see if there's a phone working - 
               no, stay back, don't come up here!
Stephen: Oh Christ!
                Is that...
                bloody idiots.
                Where the hell did they think they were going?
Howard: I think they must have thought they could walk out along the line.
Stephen: Well there won't be any more trains now.
Howard: You're a callous bastard, Stephen.
Stephen: Just pragmatic Howard.
                Did you say there's working phone in the junction box?
Automatic Story Scene
Howard: I've lost my shoes.
               I've lost my shoes, Sir.
               There's Argies on the green.
               They've taken my shoes, Sir.
Wendy: Howard!
             Howard Lantham, you open the door this instant, young man!
             Now get up! Get up!
Howard: I lost my shoes.
Wendy: What on earth are you doing here, Howard?
Howard: Stephen, he told me to stay in case Lizzie phoned.
Wendy: Stephen? Where is he?
Howard: What are you doing with those birds?
Wendy: Concentrate, Howard! Where's Stephen?
Howard: He said couldn't help them. He took my shoes so I'd stay.
Wendy: Listen to me, Howard Lantham. You find you shoes, and you get to the village.
             Find Father Jeremy, he'll give you some soup or something. Be off with you.
Howard: Where are you going?
Wendy: I'm gonna find my son. Then I'm gonna ask him what on earth he thinks he's doing.
Triggered Story Scene
Wendy: Fancy seeing you here -
              oh - is everything alright, my dear?
Lizzie: I'm sorry. I'm alright, I'm alright, it's just...
           Robert.
Wendy: That man doesn't deserve you.
              I know everybody thinks I'm just a mithering old busybody,
              but someone has to say what everyone else is thinking.
              We both know that this marriage, it's not how things are supposed to be.
Lizzie: Are you talking about me and Robert, or is this really about Stephen and Kate?
Wendy: I suppose it is.
             I have to accept it, I know,
             but she doesn't belong here. You see that, don't you?
             There's place for people and this isn't hers.
             I'm not talking about the colour of her skin, don't look at me like that.
             What they do, up there, it's not natural.
             There are some things we're not supposed to understand.
             I don't like her and I don't like how Stephen is around her.
             He was a better man when he was with you.
Radio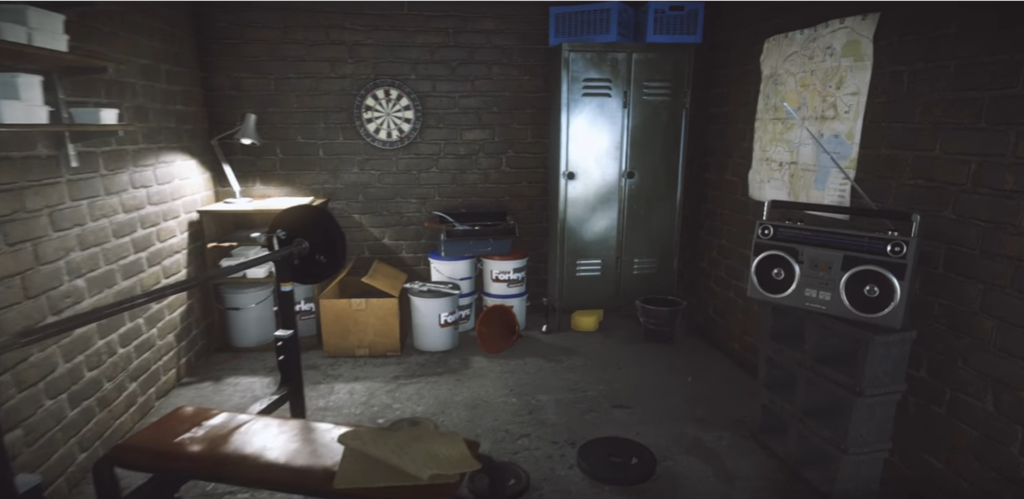 Evelyn: Rachel, darling,
             I'm sorry about taping over your music but we,
             that is, your Dad and I, in case you come home,
             I mean, I know Mrs. Graves is looking after you over there,
             but just in case you come home,
             we wanted to let you know we're gonna head over to Barb's.
Sam: Evie? Evie!
Evelyn: Sam, I'm leaving a message for Rachel. Are you gonna say hello?
Sam: Jesus Christ, Evie, we ain't got time for this.
          The bloody car won't start, we're gonna have to walk.
Evelyn: Sam, sssh - it's for Rachel, in case she comes back here.
Sam: Charlie says everyone is getting together at the hall.
          Rachel's at the camp, she'll be fine.
Evelyn: Rachel, darling, anyway,
             listen, as I was saying we're gonna be at the village hall, we'll wait there for you.
             I think it's best if you just stay put, and mind what Mrs. Graves tells you.
             We love you darling, Bye!
Sam: You finished? Right - grab that bloody case and let's get moving.
          Come on.
Radio
Kate: There's something in the observatory with me.
          I can feel it reaching out to me.
          When it's close,
          I am overcome with the most profound sense of...
          loneliness.
Automatic Story Scene
Frank: Wendy. Wendy, wake up.
Wendy: Eddie? Is that you?
Frank: No, it's me, it's Frank.
Wendy: Oh Frank. The door was open, I didn't think Graeme would mind.
Frank: I'm sure he won't. What are you doing here?
Wendy: Looking for Stephen, but I just ran out of steam. And the door was open.
             Have you listened to the radio? I thought I heard him on the radio before.
(Radio): Stephen: Don't you get that?!
                             This isn't some abstract thing!
                             Whatever came down into the tower has got out.
                             They've quarantined the whole valley!
(Radio): Kate: It's right here in the observatory.
(Radio): Stephen: It's out in the world. It's adapting and spreading... do you understand?!
(Radio): Kate: No, we can't turn it away!
Wendy: What's he mean? What's he talking about?
Frank: I dunna ken,
           but if he's one the radio I can try and reach him on the CB.
           You go to Stephen's house and if I get hold of him,
           I'll tell him to come and find you.
Automatic Story Scene
Stephen: Come on... come on... Come on you stupid basterd...
               Oh Christ, not now, come on!
               Gah! Damn bloody thing... Jesus... Come on, not now!
               Jesus, come on you bastard, start, start you bastard! Come on!
               Gah!
Automatic Story Scene
Wendy: Stephen are you here? It's your mother, answer me!
             Oh...
             What have you done, Stephen?
             Oh, Kate...
Radio
Kate: There must be a logic to the Pattern,
          It's shifting in response to me.
          It's alive.
          It's the only explanation.
Story Arc Conclusion Scene
Wendy: Stephen!
             I can hear the planes. It's the govenment coming to rescue us!
             You can come out now, it's all going to be alright.
             I can hear the jets coming!
             It's like when Eddie came home - it's like your Dad coming home again!
             I'm here!
             I'm down here!
             This way!
Continue to Chaptuer 3 - Frank...